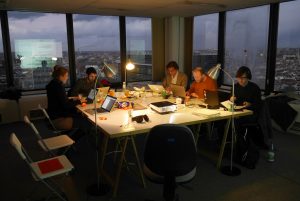 A lot of the ideas on algoliterary creation present here come from the rich exchanges during the monthly meetings of Algolit in Brussels. These meetings are open to anyone.
Algolit is a project of Constant, a workgroup around i-literature, free code and texts. The group meets regularly following the principles of the Oulipo-meetings: they share work and thoughts and create together, with or without the company of an invitee. Algolit is open to anyone interested in exchanging practises around digital ways of reading and writing.
There is no need for programming knowledge, but if you have it, you're of course very welcome as well. The idea is to offer different entrances into the field of algorithmic writing, using recipes that can be performed physically, computationally or analogically. The results will be documented at the end of the day.
The group was initiated in 2012 by Catherine Lenoble and An Mertens.
Since then, the algoliterarian space has been created and recreated together with a.o. Nicolas Malevé, Olivier Heinry, Stéphanie Villayphiou, Brendan Howell, Gijs De Heij, Christina Cochior, Hans Lammerant, Manetta Berends, Javier Lloret, Mia Melvaer, Olivier Perriquet.