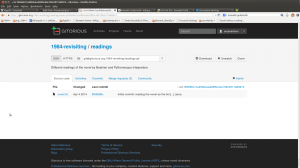 30 years after the setting of George Orwell's 1984, the novel is frequently referenced in articles on privacy, data protection and the surveillance society. Search for 'Big Brother' in this database f.ex.: http://etraces.constantvzw.org.
The novel was written in 1948, speculating on a totalitarian society that would not allow for any possible resistance.
Do these references to 1984 make sense? And to what extent? That is the question for which this project is a thinking tool. Today there is not one government, not one system. The surveillance society is a fragmented one, Big Brother has such a friendly face we do not organise a big protest after the heroic act of Snowdon, and the human minds seem far too messy to be able to control them. But then there are a lot of similarities too.
This revisiting journal is launched on gitorious today, on 4th April 2014, exactly thirty years after the main character Winston started his journal in Orwell's novel. The methods for revisiting are inspired by the ideas living at Constant and Variable in Brussels, the experiments with video and archives of Michael Murtaugh, Stéphanie Villayphiou's Blind Carbon Copy, discussions with members of Algolit and the belief that Kenneth Goldsmith might be right when he states in 'Uncreative Writing' that the literary digital revolution is only about to start.